Help 5.4
File Save As dialog
1. Function
File Save As dialog allows you to specify the name and location of the file you are about to save — fig. 1.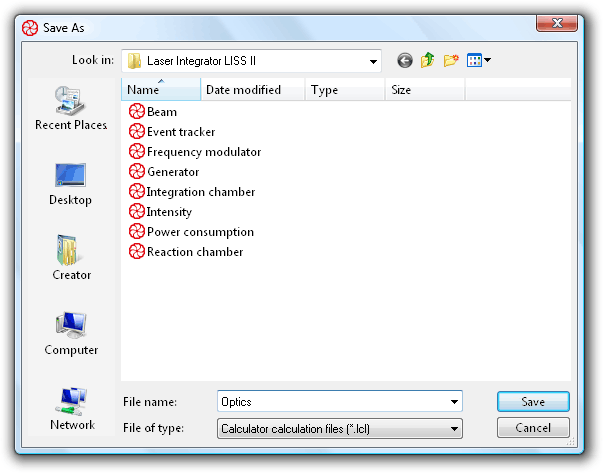 Fig. 1. File Save As dialog.
2. Dialog options
To the left the dialog has pane with buttons of fast access to basic locations:
| | Button | Description |
| --- | --- | --- |
| 1 | Recent Places | List of files and folders you opened recently |
| 2 | Desktop | List of files, folders and shortcuts you placed on your desktop |
| 3 | User name | Provides access to user document files |
| 4 | Computer | Lists hardware storages of your PC |
| 5 | Network | Shows network locations |
Table. 1. Fast access buttons.
At the top of the dialog there is a Look in combo-box, that contains path to the current folder, and four buttons for navigation and file view management. First button is a step back to the last visited folder, second is step one level up button, third creates new folder and fourth has a drop-down list of representations for file view window below.
File view window shows files in the current folder. It has sort column headers at the top to sort files in the folder according to Name, Date modified, Type and Size.
At the bottom of the dialog there is a couple of combo-boxes: File name which displays current selection if any, contains recently opened files and allows you to type in the name of the file to be saved; and Files of type, where you can select filter to set target file type. Calculator has two native filters for .lcl calculation files and .lcm memory files.
Dialog has two buttons: Save for action confirmation and Cancel for closing dialog without any effect.
3. How to use
If you want to overwrite the file you used recently, you can find it in the File name drop down list. Otherwise, using fast access buttons, navigation combo and buttons at the top of the dialog, go to the target folder. If you need new folder, create one with the help of the third button at the top.
Select the type for your file in Files of type combo-box. Input target file name in File name combo or select the target file in file view window (in the case you are overwriting existing file) and click Save button. In the case you are overwriting existing file you will be asked for confirmation.